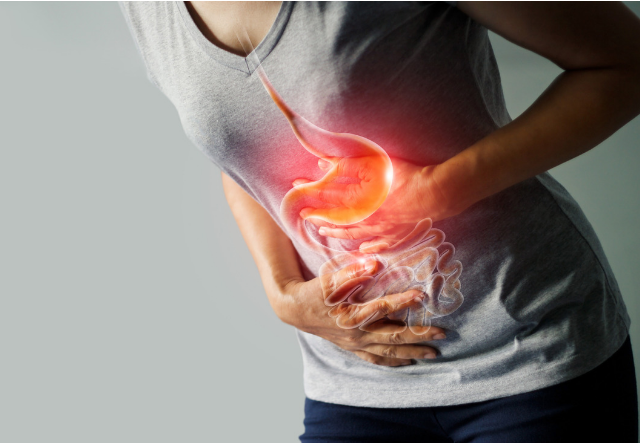 Today, medical science has achieved extreme success and leaves no stone unturned in providing treatment for any type of disease. So far no medical treatment is more effective than Ayurveda. Simply put, Ayurveda is the best treatment to cure any type of disease. And Ayurveda Hospital like Ayurhealing is well promoting Ayurveda treatment by delivering healthcare services with the help of esteemed Ayurvedic physicians. The Hospital has marked its name by delivering successful treatments to enormous patients who had been fighting with their disease for a long
time. Today, we will be discussing Gastritis in Ayurveda as we have observed people often suffer from this disorder. Those who are confused with the word and don't know the meaning, let's have a
short description for them.
What Is Gastritis?

Gastritis word derived from the Greek, meaning Gastro "Stomach" and its "Inflammation". It is the inflammation along with the injury to the lining of stomach mucosa that causes abdominal pain, bloating, vomiting, nausea, heartburn, loss of appetite, blood in the stools, and weight loss. The problem of gastritis can be short term or long term, painful or painless. It is observed that the pain of gastritis usually starts at night. Acute gastritis attacks suddenly with severe pain affecting the complete or some part of the stomach usually caused by infection.
Factors Of Causing Chronic Gastritis

According to the Ayurveda, chronic gastritis can be caused due to multiple factors like-
● Stress
● Unhealthy and irregular eating habit
● Medication
● Alcohol
● Eating wrong combination of food , over eating
● Worry, Anxiety, Stress
● Weak Immunity
If they run in the long term can lead to vitamin deficiencies, tissue damage, anemia, malabsorption of micronutrients, and most importantly cancer.
Gastritis in Ayurveda
According to Ayurveda Gastritis is called "URDHVANGA AMLAPITTA ", it occurs due to the aggravation of pitta dosha. This in turn affects the digestive fire causing toxins to accumulate and increase the level of gases in the stomach.
We at Ayurhealing provide herbal remedies to cure gastritis recommended by some of the proficient Ayurveda physicians. These herbal remedies are prepared using some quality herbs and other Ayurvedic ingredients following strict rules of Ayurveda under the surveillance of highly experienced Ayurveda physicians. Let's start with the Ayurveda treatment of gastritis.
Digestive Support
Gastritis is mainly related to the stomach and it becomes quite important to support your digestion to manage the problem of chronic gastritis. Using the herbs or home ingredients like Amla, Haritaki, Sounf, Behar, Jeerak, Pippali, and Dhania can lower the effect of
digestion problems. Every ingredient has different functions and manages the different doshas of the body.
● Vara Churna
This churan comes in the form of powder and is made up of three herbal ingredients which are completely effective and safe for use. The three ingredients that are included in this powder are Haritaki, Bhibhitaki, and Amalaki. Ayurveda tends that this powder has an amazing formulation for gastritis and has cooling effects on the body and helps to pacify the aggravated Pitta dosha. Ayurveda also suggested the right way to consume this powder that includes one
teaspoon twice a day after meals with normal water.
● Amalaki Rasayan
Ayurhealing includes simple and effective remedies to treat the problems of chronic gastritis. Amalaki is the herbal product available in the form of capsules prepared from the pure extract of the herb Amalaki. This herb has anti-inflammatory properties which help to provide relief in abdominal pain. Besides this, it also supports good digestion health and is effective in resolving other gastritis problems. Ayurveda is more effective when medicines and other remedies are
taken systematically. Here with this product, Ayurveda suggests taking one capsule two times a day after meals with plain water.
Herbs For Gastritis
AMLA – Best herb for Gastritis, used in combination with Harithaki
and Bhibhitaki
GINGER – Antioxidant and Antacid property
YASHTIMADHU – Is an Antacid that reduces acidity. It prevents
ulcer formation and relives chest congestion.
Lavang ( Clove ) – Chewing single clove can clear acidity, bad breath
and nausea

Why Choose Ayurhealing For Ayurveda Treatment?
Ayurveda tends to be a simple yet effective treatment only when you follow the right formulation and procedure in the treatment. Ayurhealing is the renowned healthcare institution where a proper Ayurveda procedure is followed by the Ayurveda Physicians to make the treatment effective and Hospital popular in more and more patients who must be looking for valuable
Ayurveda Hospital for the treatment of their disease. Our specialties are-
● Team of esteemed Doctors
● All Ayurvedic products are free from adulteration
● Efficacy of the herbs is checked under the guidance of proficient doctors
● Safety and cleanliness are the priority
All the testing and treatment come under the guidance of Dr. Mini Nair, one of the experienced and qualified doctors of our hospital, to ensure the efficacy and risk-free operations. Get in touch with Ayurhealing today and avail best offers.