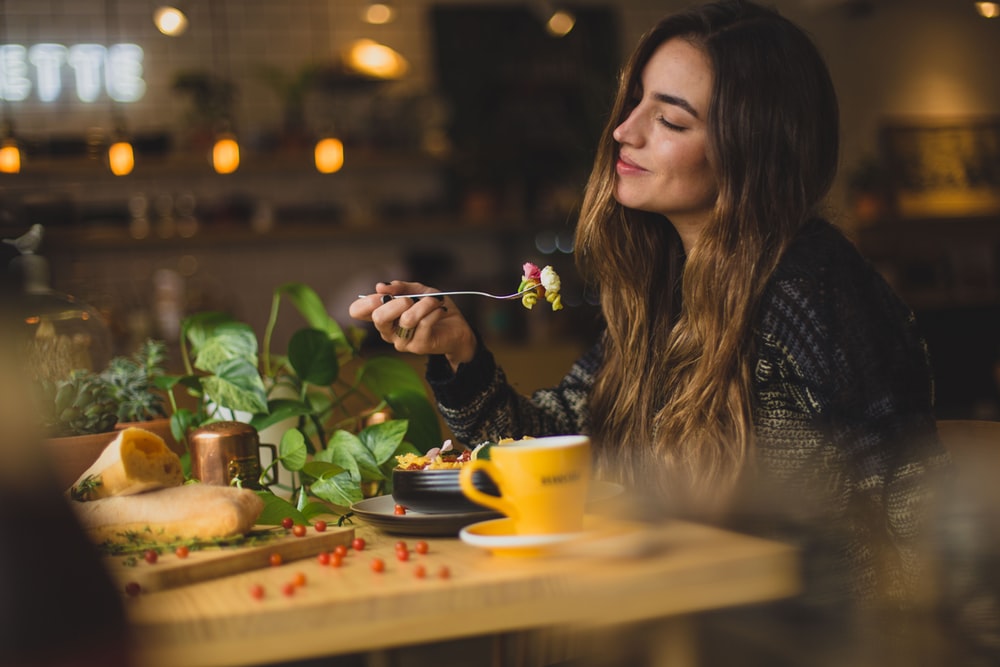 To maintain good health, having a nutrient diet is predominant but the way in which you eat food is more crucial than what you eat.
Even food with fewer nutrients will provide more benefits if eaten in the correct way. Likewise, the food with higher nutrition and eaten in the wrong way will be responsible for your digestion and other disorders. Over 90% of the population is suffering from digestion issues such as gas, bloating, stomach pain, fatigue after eating, and heartburn.
According to Ayurveda, eating healthy is essential for maintaining a healthy body.Ayurveda also believes that there should be some principles for eating  food that will be responsible for your digestive system. It also believes that to maintain your body balance is all up to you unless and until you are not suffering from any disorder.
According to Ayurveda, maintaining body balance can be done through diet, natural herbs, and yogic practices.
Ayurveda is in immense trend nowadays because of its successful results.
Large number of people are showing their strong interest in Ayurveda.
An ideal Ayurvedic diet can be a reason for your healthy body and may prevent you from many modern and urban woes. Food choices, paying attention to your food, the way you eat and drink and eat according to your capacity could prove ideal changes in your diet for overall well-being.

Here are some Ayurvedic tips that you should incorporate today.
1. Say hi to Sit and drink
When it comes to principles of eating and drinking, the way of drinking water is one of the important ways. Sit and eat have a strong relation in Ayurveda. Ayurveda doesn't consider eating or drinking while standing a good manner. It has scientific reasons behind it that standing and drinking water may disturb your fluid balance which may lead to a great accumulation of fluids in the joints causing arthritis. Additionally, it also tends to a negative impact on your kidneys.

2. Say No to Overeat and eat right after a full meal
Eating enough is not enough for good health but you should know when to eat and where you need to stop while eating. Ayurveda says that you must consume the food according to your age, weight, height that plays a crucial role. When you eat more than your diet, it slowdowns your nervous system, makes you uncomfortable and slows down your body process. It may let you face some less ideal emotions and sometimes even shame.

3. Start your day with lukewarm water
Everyone knows that water is an essential component for the human body and when you drink lukewarm water on an empty stomach it may prevent you from various current & further disorders. Drinking a glass of lukewarm water will raise your body temperature which speeds up metabolism and helps in reducing weight too.

4. Grab seasonal food
Seasonal foods have their own taste and benefits. Eating seasonal food is a healthy eating habit. Food like jaggery and ghee are warm in nature, hence they are often consumed in winters. Likewise, the curd is cool, apparently, it is beneficial to consume in summer days. Eaten them off season may cause side effects and may fall a negative impact on the mind. In order to have a healthy mind and body, it is imperative to follow good eating habits.

5. Don't eat in a hurry
Food is the most essential component for your body. As much as consumption of food is necessary for a healthy body, likewise eating manners is also important. Do not consider your eating food a task. So do not gobble your food and eat slowly. Ayurveda Treatment in Bangalore, at Ayurhealing Ayurveda And Siddha Hospital suggests that food chewed well enables you to break down the food into small pieces and also give time for the digestive system enzymes in your mouth to do their work properly.
If your food is not well-chewed, it may leave your food undigested that may lead to various health disorders.
For good digestion results, practice these imperative tips regularly. Do not forget to consult with your doctor before making any changes to your diet. In order to get safe results, you can also consult with Ayurveda Hospital, Ayurhealing at Koramangala in Bangalore.
Ayurveda Hospital, Ayurhealing is the Best Ayurveda Hospital in Bangalore in order to provide the best results of Ayurveda. It deals in treating various sorts of disorders with the help of renowned doctor like Dr. Mini Nair who is well-known for providing safe treatments of Ayurveda. Ayurveda, Ayurhealing Ayurveda Hospital and Dr.Mini Nair, Best Ayurveda Doctor in Bangalore share a strong bond and this trio can do wonders when meet together. When it comes to the permanent treatment of any disorder, no one can match the results of Ayurveda treatment in Bangalore at Ayurhealing. Ayurhealing Ayurveda Hospital guarantees to eliminate every disorder with the help ayurvedic herbal medicines at reasonable prices.